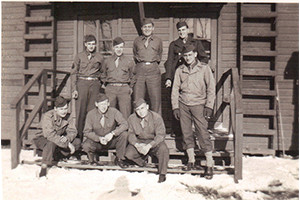 71 years ago today, 11 January, my cousin James Privoznik, affectionately referred to by the family as Jimmy, was Killed In Action during the Battle of the Bulge. If you have read my October European trip articles, you know a little about James.
To me, he is James, not Jimmy. My friend, and guide in life, love, and work the last three and a half years. Some say the dead do not speak. I believe they do. And as I sit here on 9 January and write this post, it is snowing, just as it was during James' last days on earth.
James taught me a lot about WWII research, writing, believing in myself, collaborating with others, letting go, and
healing. He helped me become a better writer on 14 March 2013 when he whispered in my ear to go write a new introduction to one of my WWII programs I was to give that night. I went home and within 45 minutes had a new introduction that had my audience in tears and held their complete attention. I was set on a path to write about WWII in a much deeper way than most. My writing changed dramatically that day and I will forever be grateful.
I have been able to count on James to show up when I lectured, was writing, needed some inspiration, needed to laugh at myself, or in those moments I felt very lonely……that I was very much loved. He not only helped save our country and freedoms so long ago, but he also helped save me. Sometimes we all just need a little help.
My journey with James began in late 2012 just after I moved out and started a new life. I had his Individual Deceased Personnel File and filed it away. I had not intended to write the books I did about my military family members and therefore had not investigated James' service. Until within a weekend, four different encounters with people asking about him happened. Then the work began. I was shown a path to take with many detours and a lot of emotional stops and starts. This path allowed me to create things which would help a lot of people remember our soldiers and civilians and what they experienced during the war years.
I wrote James' story in my book Stories of the Lost. He is also featured in my WWII lecture of the same name. In May 2015 I visited his grave in Luxembourg Cemetery. James wanted to be buried where he fell and not brought home to Chicago. On a rainy day my parents and I flew his burial flag at the cemetery and I visited his grave for the first time. It was a sad morning which led to a lot of healing for both of us.
The next day, 2 May, I was able to meet friends in Luxembourg who took us where James was killed. I walked in the woods among all those who were there that day. That was a very moving experience for me because you could almost see the soldiers in the woods and I definitely felt their presence.
In October 2015 I returned to Europe and once again visited James' grave in Luxembourg. This was not a stop I originally intended to make, but due to other circumstances, the opportunity was there. It was a gloomy morning as I drove to meet a couple of researchers in Ettelbruck, Luxembourg to embark on a day of Sauer River Crossing sites. Yet, when we drove to the cemetery and after meeting with the Superintendent, the skies began to clear and rays of sunshine fell upon the cemetery as we walked to James' grave. No longer was visiting the cemetery sad, but a more joyous occasion because I could feel the love there and how much it was appreciated that we visited.
James and I had a long talk when I visited him this time and only a few tears were shed. There was great peace.
It has been my experience that our family members show up to help us when we need them most. I believe they have some unfinished business and are also here to make sure we do what we are supposed to. Whether that is fulfill our life's purpose on this earth or forgive someone or let go of something we no longer need so we can be happier. James has helped me do all of that.
And, just as he made sure I visited his grave twice and had two different experiences – sad and unsettled, to happy and peaceful – I have a feeling he is also rescripting the day he died, so for me, it moves from one of sad reflection to one of joy. Something will take place today that may be the final thing he was to do before he moved on. While I will miss him if this is the case, I will tell him once again I love him and let him go. I know who and what is coming is a long held wish granted and there is no reason to be sad.
Thank you James for everything.
© 2016 Jennifer Holik