Forgiveness and healing can arrive at the most incredible and unexpected moments.
Throughout this trip I knew I was healing and releasing things from medieval past lives. I also knew I had to work through some forgiveness for myself where my soldiers were concerned. And there needed to be the release of my soldiers to move on. We can't stay stuck to each other forever. I'd had many conversations about this with my friend Mary, who has helped guide me on this spiritual journey. She had said once I had to let them go and forgive myself for not being able to save them all. Little did we know what form that was going to take.
On 27 October Helen Patton and I joined John Boeren for a day of Liberation Ceremonies. We again saw Matt and Gerrit and many others we had met the evening before when I spoke. John took us first to a Commonwealth War Graves Commission cemetery for a ceremony to honor the British forces that liberated Tilburg. The event was in the British forces cemetery and we could not have asked for a more perfect day. The sun was blazing high in the sky, shining down directly on the graves in gorgeous healing beams of light. People gathered and bagpipes played as those who participated in the ceremonies marched into the cemetery toward the podium.
The ceremony was in Dutch, but it didn't matter what language it was in. The sentiment was visible to everyone. Honor those who gave us our freedom. Children helped dignitaries lay flowers at the Cross of Sacrifice and then it happened.
Release. Healing. Forgiveness.
A woman got up to sing Vera Lynn's song, "We'll Meet Again." In English. At that point I felt the tears well up in my eyes and it was as if I was saying goodbye to my sweetheart during WWII and taking care of all those WWI soldiers. I could see it flash before my tear-filled eyes. I could feel this man I said goodbye to so many years and another lifetime ago, standing next to me. But he wasn't. I knew where he was though – not far away from where I was in Europe.
The grief become uncontrollable as the tears slipped faster and faster down my cheeks. The sun was shining brighter and warmer on us as we stood near the graves and I could hear my soldiers saying to me, 'Forgive yourself and let us go. It is time for us to let you go too.' And as the song ended, we all said goodbye until another time and place when, We'll Meet Again.
Release. Healing. Forgiveness.
After the ceremony, Helen and I spoke to a woman who was 12 years old during the war. She told us a few stories about her life and what it was like to be in a town occupied by the Germans. I wish we would have had all day to listen to her stories as they were sad, distressing, but also fascinating.
Thankfully we had a fantastic lunch after this ceremony and before the second one. I needed a bit of a break from all the energy. The second ceremony was for Jacoba Pulskens, a woman who hid Allied Airmen and later was sent to a concentration camp after the men were executed. The ceremony was short and a few people spoke near the memorial in Tilburg which honors her. Some members of her family attended and spoke.
When the ceremony ended, John took Helen and I to the home where Jacoba lived and then gave us a tour of Tilburg. Our final stop was a beautiful chapel where we sat for a time after lighting candles. Then Helen and I went off in search of coffee and a snack while John attended to other business.
We had a lovely dinner with John and Matt and then made our way to the final ceremony of the day, which honored the Scottish Brigade who helped liberate Tilburg. John was dressed in his St. Sebastian Guild attire because they were to lay flowers at the monument. The ceremony had melodic bagpipe music and many short speeches before children helped the dignitaries lay flowers at the Scottish Monument. It was a beautiful ceremony, again in Dutch, with some wonderful bagpipes to accompany it.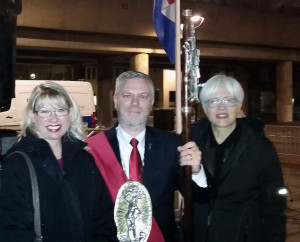 After ceremonies such as these, the Dutch gather together for coffee and cake. We participated after the first and last ceremonies of the day. It gives people a chance to talk and enjoy each other's company over food and drink, before they return home. It is a nice thing they do and I was able to meet many other people.
Before 9:00 p.m. I was heading back to Ammerzoden and to bed. The next day I would drive to Groesbeek for the day, lecture at night and drive back on Thursday. The past two days had been quite an experience and I was grateful for the healing that I was able to help with and receive. Who knows what the rest of the trip would bring and the question remained, where was this silver ring the universe kept saying I had to find?
© 2015 Jennifer Holik