When I launched my website, I started a World War II Research Collective. In this group are researchers around the world who specialize in WWII units, battles, theaters of war, or types of research. To help you get to know the researchers better, I'll be doing some Q&A with them.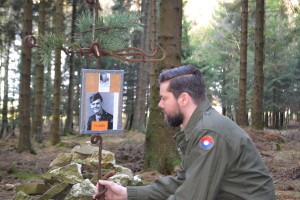 Tell us a little about yourself.
My name is Yuri Beckers, I am a 38 year old Dutch man living in Copenhagen, Denmark. Ever since I was very young, I had an interest in World War II. It started with all the well-known battles and Divisions, and I have read many books about these subjects, visited a lot of former battlefields and museums, and watched a lot of documentaries.
In 2000, I became very interested in the Battle of the Hurtgen Forest, and have been mainly interested in this battle and the penetrations into Germany ever since. Through this research I started to focus on the U.S. 9th Infantry Division's history, and this Division has been my main focus of research for many years now. I am currently writing a book about the involvement of the 9th Infantry Division during the Battle in the Hurtgen Forest. I also have adopted the graves of two men who served with the 9th Infantry Division, and I am working on a Missing In Action project with a small dedicated team.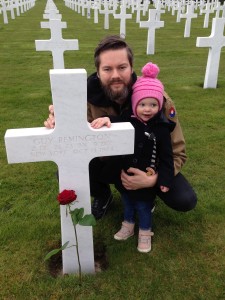 When and how did you become interested in World War II?
I vaguely remember visiting the US cemetery at Margraten, in the Netherlands, at a very young age, as my parents live only a few minutes away from it. My first real impression came when I was about 7 or 8 years old. My parents took my sister and me to Normandy and I remember standing in the middle of all those white crosses at the US Cemetery at St. Laurent-sur-Mer. After asking about all the white crosses, I heard that these were all men that fought for my freedom. This made a huge impression on me. Ever since that moment I have always been fascinated by certain World War II events.
As I grew older I started to read all the books I could find on D-Day, the battle for Normandy, the Battle of the Bulge and Operation Market Garden. I watched hours and hours of documentaries about these battles as well and visited many of the former battlefields over the years. All of this was before the well-known movies and TV shows that put World War II into the picture again. I became more and more interested in knowing more about the soldiers as well. I met the first veterans during Liberation commemorations of my hometown of Maastricht. Their stories always impressed me and I never forgot these men. I knew at an early age that I wanted to do something that would make sure these men and their actions will never for forgotten, and always remembered.
What is your main focus of research?
For over 10 years now, I have been focusing on the World War II history of the American 9th Infantry Division. The Division participated in eight battle campaigns, and has an interesting story to tell. During World War II, this Division was held out of the press many times, and did not make a lot of headlines. However, they were one of the first American Divisions to participate in battle during World War II. I have now learned much about the history and the men of the 9th Infantry Division by now, and have collected a huge amount of documentation.
At the moment my main research is about their time in the Hurtgen Forest battle during September 1944 and February 1945, as this is also the subject of the book I am working on. I am also working on a great project where we, a small group of very passionate researchers who have personal connections to all of this and myself, try to find out more about the 9th Infantry Division men who went Missing In Action. After locating information ourselves or through family members of these men, we then piece together the history of each man, and where possible, add a picture. This gives a face and a story to all those names on the Wall of Missing. The project is running along pretty well now.
Why is this area of research important to you?
I feel there is a lack of books and websites about the 9th Infantry Division. Their battle experiences during World War II have been overlooked for far too long. Some of the veterans self-published memoirs and these are often out of print, hard to find, and very expensive. Few books that mention the Division often use the same source materials, and often provide the same stories about the Division. Also, it is difficult to find a general history on the Division. I felt the same about the Battle of the Hurtgen Forest. This battle has been overlooked for so long, and not many books have been written about it that are easily available. There are some really good books about it though, but most of these are in German, and only a handful of English books. This battle affected the lives of so many men of the 9th Infantry Division and their families, I just feel that their stories need to be told.
For future projects I am gathering information about their complete World War II history, but right now I am focusing mainly on the involvement of the 9th Infantry Division in the Battle of the Hurtgen Forest.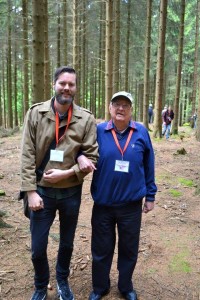 Have you met family members of soldiers you have researched? Do you have a story you can share about that?
I have met several veterans in person, and have talked to and written with about 30 of them. Most of them have passed away by now sadly. Besides this, I have been in touch with over 200 family members as well, and have been able to provide information to many of them. In return, I also received some unique information through the veterans and the families. I now have a large collection of never before published photographs and histories, personal notebooks and journals. I also have some artifacts donated to me by veterans or the family members. I recently traveled to the U.S .to talk to veterans and do more research, which was very special. I was interviewed about my research as well for a local newspaper.
Do you have a story about a great discovery or closure to a project?
I have a few. One of them was that I found a jacket of a veteran on Ebay. I got in touch with his family, and they returned the jacket to the veteran after all those years! The story made the newspaper!
Then, one of my favourite discoveries was when I got in touch with the daughter of a Sergeant. She shared some amazing pictures with me of her father's time with this Division. There were a couple of pictures where her dad was playing in the snow with some of his war buddies. They were actually going around in the snow on a sledge. Somehow, I recognized this scene, and went through my archives. I then noticed that one of the men in the pictures was holding a film camera! I checked my archive of video footage as well, and sure enough… I found the video footage of her father playing around on the sleigh! It does not happen often that you get to find a picture of a scene, see a soldier filming the scene on there as well, and find the actual footage that is being filmed in that picture! It was simply amazing to share this with the soldier's family. Imagine that, after 70 years you get to see moving video images of your dad playing around in the snow during World War 2. You can see the pictures and video here.

What are your websites? How can we reach you?

My main website is the 9th Infantry Division.
9th Infantry Division Facebook Page

Then I have a Twitter Page, but I am not very active on there yet.
Is there anything else you would like people to know before they contact you?
People sometimes feel protective of the information about their loved one. I understand this, and respect this. My goal and passion is to gather as much information as possible about the 9th Infantry Division. There are many families contacting me, thinking that all those old documents and pictures they still have laying around is not really worth anything. For my research, they are worth a lot! They are very valuable to connect many dots together in order to tell the complete story of the 9th Infantry Division.
Also, when people contact me for information, it would be good to get as much information as possible before requesting information. Small details such as name, rank, army serial number, regiment, possibly the company, and any pictures and documents would be really useful to start with, and will save me some time as well.
I can be contacted through my website.
© 2016 Jennifer Holik