The last three plus years, as I've navigated the life of being a single mom, business woman navigating uncharted territories, and becoming more spiritually aware, there have been times I've felt frustrated and lonely. Frustrated because no one is doing the kind of work I am and therefore I have no one to ask if there is an easier way. Lonely because the more I tap into my intuition, listen to the soldiers, or see signs (numbers, coins, feathers, etc.) and pay attention to my dreams, the more I see people walking out of my life. You see, a lot of people think those of us who communicate with anyone or anything on the "other side" must be crazy. We are all different. And all human. I think we should learn to honor and respect each other as humans with differences.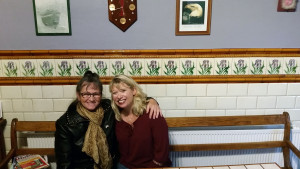 On this trip to Europe however, I was surrounded by people who understood me. Some didn't quite believe all the things I did, but kept an open mind. I was finding my tribe. One such woman who totally understood me was Mathilde Schmetz, who runs the Remember Museum (M&M Museum) with her husband Marcel.
I spent a few hours with Mathlide and Marcel and my friend Ralph on Saturday 17 October. It was not enough time to hear all Mathilde's stories about the soldiers in the museum or really absorb the amount of materials there. I did however, get to sit on the bench at the table the 1st Division Soldiers used during the war! Mathilde and I took a photo together there. Needing more time at the museum, I returned on 19 October before driving to Ammerozden, Netherlands, where I was to stay two weeks.
The morning of 19 October was drizzly and a bit foggy when I set off from Simpelveld, Netherlands back to Thimister-Clermont to the Remember Museum. Thank God for GPS because I was stopped on one road less than 5 km from the museum due to tractors blocking the road. Turning around I had to try two different roads before I ended up on one that was not taking me in a circle and heading in the general direction of the museum. The adventure felt a little like my soldiers were taking me on a journey so they could see places they fought.
Along the way I hit a bad patch of road and the car bumped. I hoped nothing had happened to the tires as I continued toward the museum. Upon arrival, Mathilde greeted me with a big hug and coffee. We talked a lot about the soldiers and how they talk to us. She agreed we must keep their memories alive and teach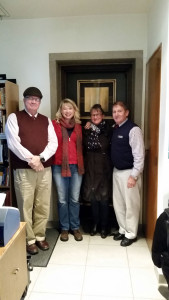 others how to do it and pass along their stories. She completely understood all the "crazy" things I told her. After some conversation she said she would take me to Henri-Chapelle Cemetery to meet Bobby Bell, the superintendent. I had not made it there on Saturday.
Bobby Bell and Lou Aske were very excited about the work I am doing and the research books I wrote. I'm so grateful for Mathilde for taking me there because they have a good relationship with the Museum. I didn't spend much time in the cemetery, even though I had a long list of men to visit. It was lunchtime and the skies were still promising rain, so I visited one soldier and we headed back to the museum.
Over a warm lunch of soup and bread in Mathilde's cozy kitchen, she, Marcel and I talked about the war. Then it was time for a short visit back to the museum. I was able to see the entire museum but not spend enough time there. You really need an entire day or more to see it, hear the stories Mathlide tells, and just be present there.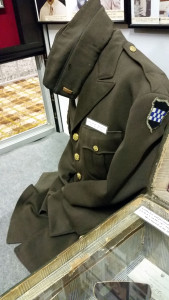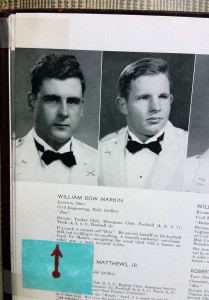 Everywhere you turn there is a photo of another soldier from the war. Often, you will see a photo of him when he was an old man at home or visiting the museum. What researchers may not understand is museums like this are full of research possibilities. Examining the photos and documents available in the exhibits and carefully viewing details within the exhibits can add a lot to research or a soldier's story.
When it was time to leave the museum for my 1.5 hour drive to Ammerzoden, I realized that tour of the Belgian countryside my soldiers took me on, resulted in a flat tire.
My FIRST flat tire ever! And it happened in Belgium! HA!
Thankfully Marcel was able to help me get it aired up and patched so I could make the trek to Ammerzoden where I was then able to replace it the next day. I was also feeling a bit tired and as if a cold was coming on.
I suspect the soldiers knew it would be an inconvenience for me to deal with the tire, but they had some lessons to teach. And teach they did. I was a willing student.
If you are ever in Belgium near Henri-Chapelle cemetery, you must visit the Remember Museum. Be sure to plan several hours there to take it all in. You will not regret it.
© 2015 Jennifer Holik