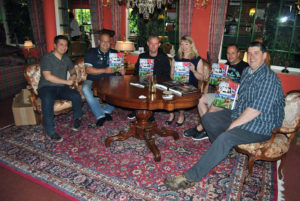 The last several years I've been researching and writing my WWII books and programs, I've been working with members of
Stichting Verenigde Adoptanten Amerikaanse Oorlogsgraven
(Foundation United Adopters American War Graves) in the Netherlands. This group is responsible for two projects which honor our WWII Soldiers buried in American Battle Monument Commission (ABMC) cemeteries overseas. The members of this foundation are fantastic and we've had an excellent give and take of helping each other. I met many of them in person at the cemeteries and while traveling in Europe.
Faces of Margraten (2015 and 2016, coming again in 2018)
This Foundation actively seeks information and photographs on all the soldiers buried at Margraten (Netherlands American Cemetery), Henri-Chapelle, and Ardennes ABMC cemeteries. They also assist researchers on both sides of the pond. It is a nice give and take of information and sharing of stories.
Fields of Honor Database
This project is a database containing photographs of the soldier's grave and the soldier, if they have been located. It also contains basic information about the soldier obtained from primarily online sources or researchers.
Faces of Margraten
This project attempts to put a face with every name at the Netherlands American Cemetery at Margraten. I attended the Faces of Margraten in 2015. It was an amazing event honoring our soldiers. I was able to see photos for many soldiers I researched.
How can you help?
Search the Fields of Honor Database to see what soldiers are from your state or for someone you know is buried there.
Pull together materials to submit to the volunteers at the foundation.
Talk to your local society about how it can help the foundation.
If you live in Europe and research WWII, purchase a copy of my book to support the foundation and learn step-by-step, how to research. Faces of War: Researching Your Adopted Soldier.
If you live in the U.S. and need assistance researching, Volumes 1 and 2 of Stories from the World War II Battlefield, are the only books on the market available which teach you step-by-step how to do WWII research.
Attend one of my WWII talks in the U.S. or Europe to learn how to research.
Can I help you with your research?
Are you ready to learn the bigger picture of your family member's military service? Email us at
info@wwiirwc.com
to set up your free phone consultation today to discuss project options, fees, and time. You can also
sign-up for our free newsletter
and receive the
Start Writing Your Military Story Today
free!
Are you following Jennifer
and all her work on all her social media sites? Click the link to learn more and find different content.
© 2016 World War II Research and Writing Center