Have you taken time to record the stories of your World War II ancestors and families? One way to get started is to use the Military Memories Writing Prompts to jump start your research and writing.  as we explore life on the U.S. home front, women in service, and the lives of all veterans.
These prompts were written with the World War II era in mind, but most can be used for any war. They were originally used in May 2014 and are not grouped by category. Since May 2014 I expanded these 31 prompts into over 500. Are you looking for more writing prompts to help you tell the stories of war from a U.S. or European perspective? See my Stories from the World War II Battlefield Volume 3: Writing the Stories of War, for over 500 writing prompts for U.S. and European writing.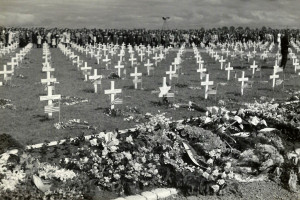 Prompt 30: Remembrance. Today is Memorial Day. How do you honor those in your family who died in military service on this day? Do you have any stories or photographs of Memorial Days from years past? Particularly after the war when families would visit cemeteries more often?
Please share your prompts and responses on your blog and tag them with #militarymemories.
Do you need help learning how to do World War II research or need to hire a researcher to help you? Please feel free to contact me for more details.
© 2016 Jennifer Holik