really cool
World War II books I do not have in my library. So many books…..so little time when I'm here to go through them all. He is also a 101st Airborne re-enactor, which adds a new dimension to the work I do and education I receive.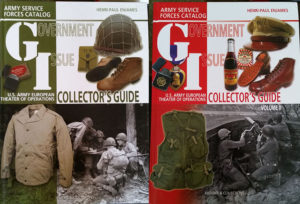 There are two books I must recommend to anyone:
Doing World War II research for their family and want to see if the items you have in the family are from World War II.
Doing research for a town or a memorial.
For re-enactment purposes
These books are especially important if you are putting together any type of exhibit for the public.
These books are by Henri-Paul Enjames,
Army Service Forces Catalog Government Issue U.S. Army European Theater of Operations Collector's Guide.
There are two volumes because the author could not put them both into one book.
Why do you need these books?
The books are broken into many chapters which include Wartime Draft, Training Camps, Uniforms, Insignia and Decorations, Personnel Chapters (with uniform examples), POWs, Trophies and Souvenirs, Sports and Recreation, Chaplains, Female Personnel, and much more.
There are large photographs, each captioned, with what the item is and sometimes when it was in use.
The photographs are in color so you can see what the soldiers were wearing, using, and what families received (VMail, cards, fountain pens and ink, etc.) How often do we see a color photograph of World War II and feel it is somehow "wrong" because we are so conditioned to seeing film footage and photos in black and white?
There are uniforms, helmets, bags, boots, shoes, socks, underwear, and other items a soldier might have worn. You may have some of these items at home.
There are examples of papers, books, wallets, fountain pen and ink, tags, and other paper related objects which soldiers may have used or been issued.
You will learn what kinds of products they used for shaving, smoking, health care (teeth and body), and to keep their weapons and equipment in good working order.
There are examples of equipment used, rations given, rifles and other guns and ammunition issued to soldiers.
Finally, you can learn about your specific section of the Army – Chaplain, Engineers, Airborne, Infantry, Medical. There are chapters for those and more.
These books have so much information, it is impossible to cover it all in one article. I encourage you to order your own copies or see if your local library has them to borrow. The items in these books will provide more context about the life your soldier lived during World War II, through what he wore, used in combat, ate, wrote with and on, and how he was trained. This is information you may not get out of Morning Reports, After Action Reports, or his OMPF. Those are our usual "go-to" sources for beginning research. Yet there is still so much more to learn.
Do you know of other collector's guides on the market? Any for the Marines, Navy, Coast Guard, or Merchant Marines? We'd love to know about other guides you have found useful.
Can I help you with your research?
Are you ready to learn the bigger picture of your family member's military service? Email us at

info@wwiirwc.com

to set up your free phone consultation today to discuss project options, fees, and time. You can also

sign-up for our free newsletter

and receive the

Start Writing Your Military Story Today

free!

Are you following Jennifer

and all her work on all her social media sites? Click the link to learn more and find different content.

© 2016 World War II Research and Writing Center

Every trip I take to Europe provides multiple article and book ideas. It also provides a great deal of education for my work. I learn so many things I didn't already know. The things there are to learn about World War II (only focusing on the American participation) are endless. Why do I leave with article and book ideas? Because I see so many incredible things, meet new people who do World War II research, and am engaged to a man who has a lot of