Last fall I watched a NARA livestream about combat photographers and a new book that was being released. You can read about that book in my article, Book Review: Aftershock. The Human Toll of War. I also read a historical fiction book about a female war correspondent/photographer who was based on the life of Lee Miller. I wrote about that book in my article, Women in WWII – Sex, Rights, Jobs, Discrimination, Abuse. The book and livestream made me curious about the lives of combat photographers. While I've spent a decade researching a lot of military personnel, combat photographers were never one of them.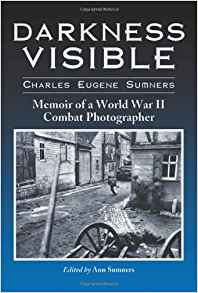 One of the books mentioned in the book Aftershock was Darkness Visible: Memoir of a World War II Combat Photographer by Charles Eugene Sumners. This book is full of a lot of photographs I had not seen before and a few I had. It is refreshing to not see the same old photos being recycled in every book or website I see.
The book is not a dry memoir of where someone was and what they saw. It is filled with a lot of little stories combined with the history of the war. I particularly enjoyed how Charles talked about his fellow photographers and told stories about the scrapes they got into and the fun they had.
Charles also provides a little history of his training and explained what photos were censored or how the censors marked the photos. Markings usually meant where a photographer should have been to get a better shot – this was often in the middle of bullets flying. Makes you wonder if the guys censoring the photos were ever in combat.
A bonus in this book – most of the photos are labeled with a specific unit he was photographing. This is helpful for those seeking photos for their family histories.
The book is a quick read and the photos are not overly graphic. I really enjoyed reading about Charles' experience and experiencing his world for a short time. Highly recommend this book if you want to learn more about this aspect of the war.
Can I help you with your research?
Are you ready to learn the bigger picture of your family member's military service? Email us at info@wwiirwc.com to discuss project options, fees, and time. You can also sign-up for our free newsletter!
© 2020 World War II Research and Writing Center