Yesterday I was interviewed and filmed for the business, in Chicago at the Pritzker Military Museum and Library. People strolled in and out of the building while we were filming and one young woman listened to the stories I told as Scott asked questions while he filmed. She and I had several short conversations about the work I do, the History degree I have (Bachelor only) and the adventurous, inspirational, traveling, healing, love-filled life I have created with my business. She too has a history degree. It reminded me that several years ago I gave a talk at my alma mater, The University of Missouri-Rolla – now Missouri S&T, to the history club about thinking outside the box. I'd like to share a few thoughts with history majors around the world and let you know, there are many other choices available besides going for your Masters or Ph.D. and teaching or being a scholar.  ANYTHING is possible if you choose it.
What did my life look like after I finished my degree?
When I finished my history degree I moved back to Chicago and worked for several years at Shedd Aquarium, first in the education department and later built databases for their animal management system. Building databases, writing reports, and teaching staff how to use the system, encompassed analytical thinking, which is important for historians. I was using some of my history skills and also taught myself everything I knew about databases. Those things would benefit me when I was in business for myself. No experience is ever wasted. As time passed, I had three boys and stopped working for five years. In 2010 it was time to return to work and I ended up not working for "the man" but started my own genealogy business.
When my business started I was only taking genealogy research clients. I also wrote one book about my cousin Flying Tiger Robert Brouk. You can find his story in my book "Stories of the Lost." Writing that book was a bucket list thing. I never intended to write 13 others after that in five years. As time passed I expanded the business into teaching some genealogy topics and researching WWI and WWII. I published several genealogy teaching course books for kids to adults and one for societies and libraries. By late 2012 I was moving more into WWI and WWII research, writing, and teaching, and moving away from genealogy clients.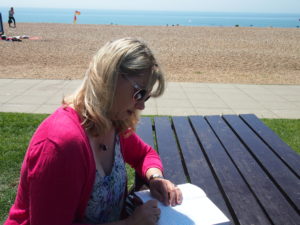 What does my life look like right now?
Seven years later, my business looks completely different than it did when I started it. I'm currently only working with one genealogy client I've had for six years. The rest of my business consists of WWI and WWII clients with an occasional Korean War client thrown in the mix. I wrote 14 books, countless articles and programs. I also teach seven WWI and WWII research and writing programs in the U.S. and Europe.
Why did I move from genealogy to WWI and WWII? In part because no one else was specializing in this. Also because I was chosen to do this job so the stories of war would be saved. I also followed the energy, the soldiers I  channeled, and my intuition. I did what was easy and fun for me, and things and people showed up to support that. I invested a lot of time and money into research and writing so I could write the only books on the market that teach you how to research any branch of the military for WWI and WWII. This also allowed me to create the programs I now teach.
After that I began traveling to Europe to meet people in a network I was building of WWII researchers and tour guides, to which I refer clients who wish to walk in their soldier's footsteps. Through people I met on one of those trips, I was introduced to my now fiancé, Johan, a Dutch man living near Amsterdam.  Johan and I now live part of the year in Europe and part in the U.S. My fiancé is also a historian and 101st Airborne Reenactor. Together we are creating new programs and workshops and travel together. I'm also raising three very active boys.
Along the way I had a couple people who mentored me briefly in starting the business. When it was time to move into military research, there was no one to mentor me. I made it up and worked through the questions as I went along. I also collaborated with researchers in Europe. When people tell you that you should always have a mentor, I say no you don't. You are capable of creating something no one else has if you trust yourself, what you know, and are willing to put in the time to follow your heart.
Throughout the last seven years, more in the last five, I started a spiritual journey which took me through a dark night of the soul in which I left my marriage, started a new life with my boys, and spent a lot of time alone (with my soldiers.) I rediscovered myself, resolved within myself a lot of family issues, and found parts of me that had been hidden for lifetimes. That journey took me through Europe with my cousin James Privoznik who died 11 January 1945 in Bras, Belgium during the Battle of the Bulge. I wrote his story in "Stories of the Lost" and feature him in many of my programs. James helped shaped the business and my life from the beyond. He, among many others living and dead, helped me heal a lot of deep, dark parts of me.
That healing journey allowed me to be more open and vulnerable, and offer this to clients and those who attend my programs. Research isn't always about the questions we have about our soldier. Often it takes us deeper, to places we never expect, if we choose and allow it. To expand my healing and what I BE in this world to make a contribution, I became a Certified Access Consciousness Bars Practitioner this summer. The tools I've learned in Access and ThetaHealing, along with meditation and other healing modalities allows me to contribute to my work and healing in ways I never expected.
What
comes next?
My research business is expanding and I'm now working with one colleague to keep the client load moving smoothly.  Soon I will be looking for an intern. Johan and I are creating workshops which currently do not exist anywhere in the world. I'm writing two short books and will increase my speaking and teaching in 2018. I also decided to pursue the Access Consciousness Certified Facilitator training and Reiki Training.
What else will show up? Who knows. ANYTHING is possible.
If you are pursuing a degree in history and think the only option available to you is to go into teaching or become a scholar, consider the little I've told you about my journey. Think outside the box, beyond what everyone else tells you is possible and create your own reality and life. You just may discover that what you love to do and is easy for you, can create a business and life you never expected.
Have you pursued a history degree and done something other than teaching with it? We'd love to hear about your journey.
© 2017 World War II Research and Writing Center