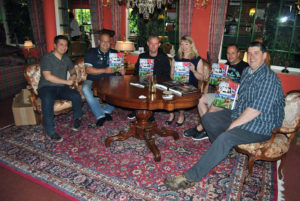 Over the last several years I have worked with, and collaborated with, many Europeans who research American WWI and WWII service. I've also observed that most genealogists do pre-WWI research only, because so many records are accessible online or in books for those wars.
Sadly, genealogists are missing out on a huge opportunity to learn more about members of their communities or families by not exploring the records available offline, working with overseas researchers, and speaking with veterans about their experiences. As part of the Honoring World War II Service Together program I launched in August, I'd like to share 10 things genealogists should know about these incredible researchers. It is my hope through these articles that more people will begin connecting and collaborating. You might be surprised at what you learn about your WWI or WWII family member that you didn't know!
Language. One reason I believe many Americans do not pursue overseas research is the language barrier. However, many researchers speak English, or speak it well enough to communicate (with some patience on both parties). Sometimes the researcher has friends who can translate messages. When all else fails, there is Google Translate.
Researchers who have adopted a grave to honor at an ABMC cemetery, or do WWI or WWII re-enactment, or research what took place in the town or city where they live, have often done a lot of research on their own to learn the soldier's story. They might have information and American records you do not. This includes photographs.
Photographs are an important part of the research grave adopters and others do. Each person I've met or spoken with, strives to find a face to put with the name(s) of those they research.

Do you know about The Faces of Margraten Project? The foundation, Stichting Verenigde Adoptanten Amerikaanse Oorlogsgraven (Foundation United Adopters American War Graves) who is selling my book "Faces of War: Researching Your Adopted Soldier" handles this amazing project. I attended the first Faces of Margraten in 2015. In 2016, the foundation added hundreds more photographs. The next Faces of Margraten will be in 2018, when the foundation hopes to have thousands more photos. Other ABMC cemeteries, like Cambridge, are following this great program and implementing it at their cemeteries.
This group also runs the Fields of Honor Database, which currently contains three ABMC cemeteries, soon to be six. The goal is to tell the story of each soldier buried in these cemeteries or listed on the Wall of the Missing. They are always looking for more information and photographs.

Living History is active and available in Europe. There are many WWI and WWII re-enactment groups. You can read more about that in my articles: 10 Things Americans Should Know About European WWII Re-Enactors and Honoring Service – Living History in the Netherlands.
Many researchers have "boots on the ground" experience with the battlefields. They have walked where their adopted soldier fought and sometimes died. They know where the Memorials and Monuments are located, often off the beaten path and difficult for a tourist to locate. With this comes research, maps, photographs, and often testimony from veterans. I can say the best times I've had seeing WWII sites in Europe were with researchers who took me to see things I wouldn't have otherwise seen. They also often sent me home with materials, pictures, and history, after filling my head with history all along the route we took during the day!

Jennifer meets Jim "Pee Wee" Martin at the camp.

Veterans are often in Europe and many researchers interview them. And on the flip side of the coin, many European researchers come to America to meet veterans or attend WWII reunions and talk to family members. There is much knowledge to be gained by speaking with veterans and family members.

Europeans have easy access to libraries, museums, and archives that Americans do not. There are other records, sometimes in other languages, in Europe. Working with overseas researchers, allows us to gain access with their help to other records that might tell the story of our soldier. The museums also have items our soldiers used, wore, drove, or shot, which also add to their stories.
Researchers are often seeking Next-Of-Kin for their soldiers. Perhaps you will connect with someone!
Researchers use American and European newspapers to spread the word about visits overseas, new research, upcoming commemorations and memorial unveilings. When you search for your soldier online, you might be surprised to find an article in Dutch about him!
Our American men and women helped to liberate their countries. Sometimes more than once. Many researchers feel they owe our soldiers, especially the ones who died for their freedom, a debt. There is deep love and commitment in most countries to preserve the memories of our soldiers. They honor the memories by participating in Memorial Day and Veterans Day services, commemorations for specific battles or units, Liberation Day ceremonies, and often the birthday and death day of soldiers.

Laying the U.S. Paratrooper Society wreath at Margraten. Photo courtesy Andre Jans.

Photographs are usually taken at these events which can be shared with family members. At some of these ceremonies, Americans are invited to lay wreaths or flowers as part of the commemoration. I had the honor of doing this at Margraten for Memorial Day 2016.
There truly is a deep love and respect for our American soldiers in Europe. I encourage you to connect with these amazing researchers, tour guides, grave adopters, re-enactors, museum owners, and others who research in Europe.
Have you worked with European researchers? What was your experience? What other tips do you have for genealogists?
I am taking new clients at this time if you are interested in working with a researcher to pull records for any military branch. I'm also scheduling speaking appearances in Europe for 2017. Please contact me if your group is interested in a program. I have seven to choose from on my website.
© 2016 World War II Research and Writing Center