When searching for military information, particularly if your service member was in the Army or Air Corps/Army Air Forces/Air Force and their service file burned, have you looked for military bonus applications?
After World War I, World War II, Korea, Vietnam, and more current wars, many states offered a bonus payment to active duty service members. Rules varied on if the service member had to serve overseas, if certain medals were awarded, and other service detail requirements had to be met to apply.
Payments were not much, averaging around $100, but that money for a post-WWI or post-WWII service member or his/her beneficiary, may have been like a million dollars. It could have been life changing.
World War I, Illinois Bonus Application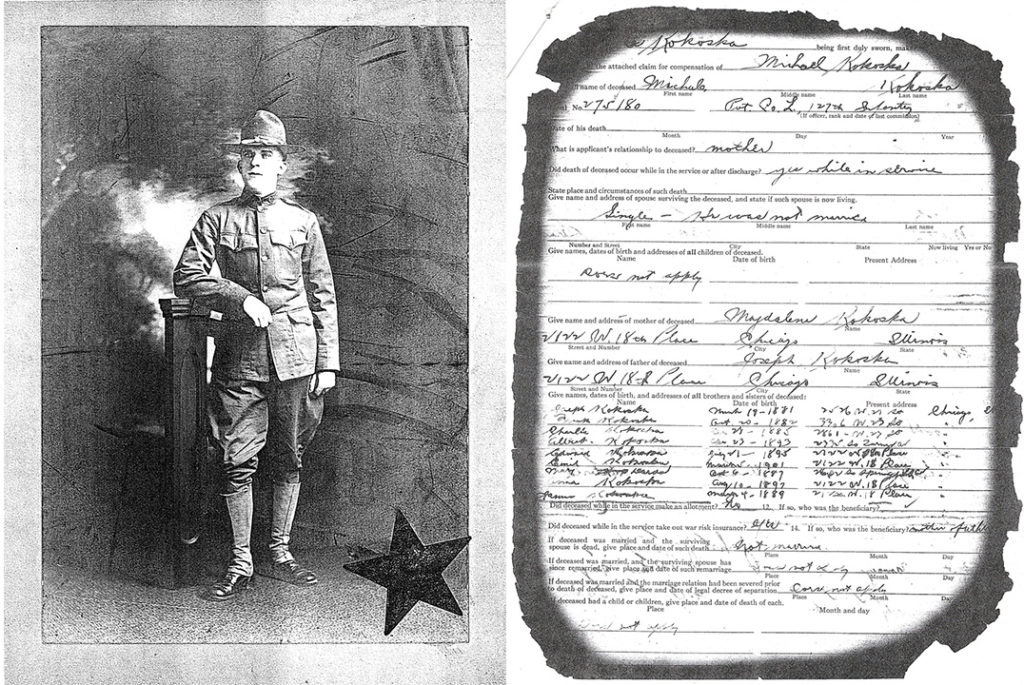 This is an example of an Illinois World War I Bonus Application for my great grand uncle Michael Kokoska. Michael died in Army service in France in 1918 but his mother, as beneficiary, was able to apply for his bonus payment.
At some point wherever these records were stored, there was a fire. Michael's application is burned around the edges but contains a lot of great details that furthered not only my military research but his entire family's genealogical research.
Where Do I Find These Records? What Are The Access Rules?
Most states have bonus applications for wars since World War I, however access rules vary. In Illinois for example, World War I applications are available. World War II does not begin to become available until 2023 and that is only for the year 1947. If your veteran or beneficiary applied in 1948 or later, you have to wait.
These bonus applications are normally held at the state archive level. However, not all archives have them readily available for research. Take New York State Archives as an example. I have been in contact with them for a client project, for the last three weeks. At first I asked if they could search the WWII Bonus Applications and the archivists had no idea what I was talking about and told me they didn't have them. However, their finding aid said otherwise and gave a different name for the record set, so I sent the URL. Sending this helped but it still took until today for the archivist to say yes the records do exist and are offsite. They would arrive by courier end of this week and my search could continue. FYI – just send the URL to the finding aid link so the archivist knows exactly what you seek. It appears in New York state, anyone an access these records.
Iowa has digitized their bonus applications for World War II and they are available on Ancestry.
One resource I found, that does not quite have fully accurate information, Iowa and New York are not listed as states that have bonus applications, but gives you enough to go search on your own, is the Military Wallet website. Take a look at what's there and familiarize yourself with the types of information you might discover and questions you might ask the state archives and other archives in your search for military information.
RESEARCH TIP! On the military wallet website and state archive websites, pay attention to what supporting documents are required with the applications. Try to obtain copies of all supporting documents!
Vietnam War – Current Wars/Conflicts
My advice, especially if your family's veteran is still alive, is to have them request their bonus application and any supporting documents from the state archives if they can. The more information you can gather while your veteran is alive, the easier research becomes, even if they kept a lot of records and have their full discharge papers.
Are You Ready to Start Researching?
Every single piece of paper or photo you have might contain clues to help your military research projects move forward. When you work with a researcher or on your own, pay attention to all the details.
If you are ready to start a research or writing project, email me at info@wwiirwc.com and let's set up a free phone consultation. I'm excited to help you bring your family's military history to life and preserve it for generations.
If you want even more military and ancestral healing content, follow me on TikTok. I share a lot of additional tips there.
© 2022 WWII Research & Writing Center