There are a lot of people who contact me about helping them find information on their WWII Soldier, Airman, Sailor, or Marine. Most are children of those who died during the war and veterans who are now deceased. I hear all kinds of stories that were passed down through the family, often which contain very little truth today when you look at the military records, and records and photographs the family has, and piece together the service puzzle. It is kind of like the telephone game where someone tells a story and by the time it gets to the 10th person it is nothing resembling the original.
I also speak to a lot of children of soldiers and grave adopters in various Facebook groups. There is so much misinformation floating around it makes my heart and head hurt. There is the belief that everything is digitized online and free. Another belief is ALL the records ever created for WWII burned in the NPRC fire in 1973 and nothing is left. I'm sorry to tell you that's just not true. These beliefs are more prevalent it seems in European countries where researchers are looking online at old and outdated information, and not checking to see what the true facts are about records access and cost today. It doesn't help when well-meaning people try to help researchers and never look at anything offline and insist it is all online. You can find some information online. It is rare to find everything online.
What You Need To Know
The 1973 Fire: The Fire in 1973 at the NPRC destroyed approximately 80% of the Army, Air Corps/Army Air Forces, National Guard Official Military Personnel Files (OMPFs), also known as the service files. The Civilian, Marine Corps, Coast Guard, Navy, and Merchant Marine OMPFs are intact. These records are necessary to your research and do not exist online. There are no plans to digitize these records. Learn more about these files and IDPFs.
Records Access: If a soldier died or was discharged by today's date 62 years ago (so as of the day of this original post – 30 November 1954), ANYONE can access those OMPFs. If the soldier died or was discharged after today's date 62 years ago, then you still have to be the veteran or next of kin to receive access. Next of kin is defined as the spouse, parents, siblings or children of the veteran. If you are a niece, nephew, grandchild, or otherwise related or unrelated, you will likely not gain access to the files or you will receive information that is heavily redacted.
NPRC has other records which they will not search for you to help you reconstruct Army, Air Corps, National Guard service if you send in Form 180 requesting a copy of a file.
What Will NPRC charge you for Form 180 requests? When NPRC sends you a letter that says, 'We have information and it will cost you $20-$25 to receive.' This usually means they found a final payroll record, usually a Hospital Admissions Index and maybe letters sent in by someone else requesting information. You may spend $20 on one to a few pieces of paper that may not be much help. I just helped a client in France and my researcher got the copies of what was in the OMPF (4 pages) plus Morning Reports. NPRC sent him a letter saying for $25 we'll send you the papers. We already had them.
When NPRC sends you a letter that says, 'We have information and it will cost you $70 to receive.' This usually means there is a full or burned file. The number of pages you will get varies and they will not tell you what's in the file or how many pages for the $70.
Reconstructing Service: Reconstructing Army, Air Corps, and National Guard service require additional records to piece together service history. You need a researcher to help with this OR you can visit NPRC yourself to do the work. Form 180 is not going to go deeper into the research to give you answers.
The IDPF (Death file): These are are required files for researchers and grave adopters. I've already written extensively about the records access and how it is changing. You can learn more here. Be sure to read the first article linked in this post so you have the full story. It is also important to understand that the IDPF lists the FINAL unit in which a soldier served. This was often not the only unit. When researchers and grave adopters assume this was it for a soldier they often spend a lot of time and money chasing records that do not apply to the experience their soldier had in the war. Doing the homework to put together a timeline of service is necessary so you know what unit(s) a soldier was in.
Where are the Records? In the U.S., military records are held in repositories all across our large country. Main records are held in our National Archives facilities, and the rest are scattered around. Records access here is generally not free. Researchers pay for copies in most repositories unless scanning is allowed. Even then there may be a usage fee to scan or photograph materials. In many cases you will pay for copies on top of a researcher's fees if you are unable to travel to do your own research.
In Europe, many countries have digitized their archives and often (but not always,) offer the information to the public for free. The countries are smaller than the U.S., records are held in fewer locations, and many people will do their own research rather than hire a researcher. This is where there is a cultural difference between American and European researchers. In Europe, where access is more free and available, and many feel they owe a debt to our soldiers, the idea of paying for research is wrong to them. I understand this, but the reality of access and what information you need to tell a story, requires research in offline records.
What does it cost? Each researcher has their own fees for research. In general, you will also pay copy costs when records are not allowed to be scanned on-site. Usage fees or scanning fees in repositories. Travel costs for researchers visiting repositories. If you hire someone to be on-site for a day or more then lodging and meals are usually included in the fees.
Legitimate professional researchers should be providing you with a full report on what was discovered and not discovered. The report should contain at least the following:
Source citations for every fact they list so you know exactly where the information came from.
A bibliography of sources used.
A timeline or summary of service explaining what was discovered and what unit(s), battles, campaigns, etc. a soldier participated in.
Copies of all materials discovered in digital or paper format.
Suggested resources for next steps to learn more if you choose.
How Long Does it Take For a Researcher to Do a Job? This varies based on how long it takes to gain access to the records. With NPRC records, my team and I can put an initial report together often within a month. When we look at unit level records it can take up to 3 months to gather the information, analyze it and prepare a report. Because of the time it takes, project costs can be spread out over several months. This is how I work with clients. Not all researchers do this.
In General, What is Online?
This description is by no means complete but will give you an idea of what is and is not available. Reg
ardless of whether you obtain information from a family member, online or offline, verify it against other records. Family stories get changed, military records contain errors. Verify, verify, verify.
When you find a repository that has information but it is not online, talk to a researcher about access, send a letter to the repository requesting a search, or see if they offer a researcher's list so you can get help if you cannot visit in person. Many records and photographs are available offline in repositories across the U.S.
Free databases on Ancestry, NARA, Fold3.com are often the same. You'll find the Army Enlistment Database which is incomplete and does not contain everyone who ever served. Casualty lists for branches or states are found online. FindAGrave has information but be careful to note who put the information online and verify its accuracy. Also pay attention to where someone is or is not buried. Just because someone has an entry does not mean he is buried somewhere. There are still many Missing In Action from WWI to Vietnam who have FindAGrave entries that make those who are not paying close attention, believe they are buried and identified.
Newspapers. There are several newspaper websites offering free and subscription based access. Researchers can often find pieces of the puzzle (not always accurate in news articles) and photographs.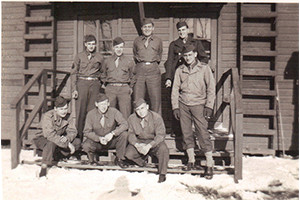 Photographs. Everyone wants a photo of their soldier. Sometimes you will find these online. Sometimes they are in the OMPF and IDPF (Navy, Marine Corps, Coast Guard, Merchant Marine files.) Educational institutions, military institutions, archives, libraries, genealogical and historical societies may have offline collections which require a researcher to contact them for information.
Army, Air Corps/Army Air Forces company-level and unit-level records, and sometimes IDPFs, are typically not available online unless a Division or Bomb Group has digitized them and placed them online. You will not find OMPFs online. If you would like to see examples of what is online, you can look at the 7th Armored Division, 80th Infantry Division, and 100th Bomb Group, as examples. Fold3.com also has some donated collections for Army and Air Corps/Air Forces, but the collection is tiny.
Navy Unit Records can be found in collections on Fold3.com. These digitized records are not everything that exist.
Marine Corps Unit Records can be found within Naval collections on Fold3.com. These digitized records are not everything that exist.
Coast Guard Unit Records may be found within Naval collections on Fold3.com. These digitized records are not everything that exist.
So when do you need to hire someone and when do you not?
If you are thinking about hiring a researcher, please do not send in Form 180 before you do so. When you do this, we cannot gain access to the file until NPRC processes your request and you choose to go with it or decline it. On average it takes 6-9 months for NPRC to do anything about a request due to the high number they receive. If you send in a request and we want to access the file, it will require more work on your part to cancel the request, then wait for NPRC to put it back into the system for use, which based on experience has taken 1-2 months before we can access it.
You do not know how, or do not wish, to do the research on your own. This is a case where researchers can be extremely helpful. We know our way around the records access and archives. We understand how to decipher all the military lingo and abbreviations and piece together service history.
You have done research but are stuck and need an expert's assistance. Many people prefer to do research on their own to a certain point. When they become stuck or need information faster than waiting for a government agency to provide it, we can help.
Army or Air Corps/Air Forces: If you are researching Army or Air Corps/Air Forces, it is better to work with a researcher to pull information, especially if you live in Europe. We have people on-site at archives and know within a day or two of requesting information, what is available. At NPRC we are able to pull the OMPF (whatever may exist) plus Company Morning Reports, Air Force Award Cards, IDPFs that they have available, Payroll, Monthly Reports, and other records that Form 180 will not pull for you. With this information we can put together a timeline of service explaining your soldier's basic story. What unit(s) was he in, where did he train, when did he go overseas, what happened there? What are details of his death or return home after the war? Once we know this, we can consult unit records to fill in more details and give a broader explanation of his service through unit records and historical context.
Did you know even if the OMPF burned, we can successful reconstruct service history for your soldier or airman? We do it every single day.
Navy, Coast Guard, Merchant Marines, or Marine Corps: If you are researching Navy, Coast Guard, Merchant Marines, or Marine Corps, sending in Form 180 will get you a copy of the OMPF within 6-9 months. If you are the next of kin you can also get copies of the Medical Records attached to the OMPFs. Then you have the choice to work with a researcher for unit level records and context or find this on your own.
Where Do I Go From Here?
If you live in the U.S. and would like to do research on your own, visit my book page and pick up a copy of the only WWII research books, Stories from the World War II Battlefield, on the market to help you research. Volume 1 is over 300 pages and covers Army, Air Corps, National Guard. Volume 2 is over 400 pages and covers Navy, Coast Guard, Marine Corps, and Merchant Marines. Volume 3 talks about organizing materials and writing the story.
If you live in Europe, the book Faces of War: Researching Your Adopted Soldier covers all branches in over 300 pages.
Start researching online. Read the education articles on my website. Explore the Research section which contains a vast number of resources.
Hire a researcher to help you piece together your soldier's service.
Attend a WWII program in the U.S. or Europe. I am scheduling programs through early 2018. Please contact me for fees and scheduling availability. I'm currently teaching 7 different WWII programs.
Do you have questions? Please feel free to leave them in the comments.
© 2016 World War II Research and Writing Center