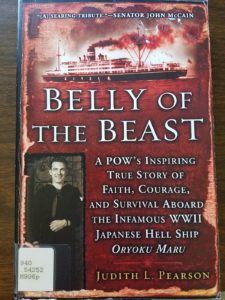 War in the Pacific.
This is something many people do not talk about and there are fewer groups on Facebook for this part of World War II than what exists for the European Theater of War. For some reason people focus more on the European Theater of War than any other theater.
I have conducted research on service members who fought in the Pacific for almost a decade and have helped numerous clients learn more about their family member's history in this theater of war. However, there was a part of me in resistance to really going there and immersing myself in the horrors, trauma, tragedy, and history of it all. In my point of view, the Japanese treatment of POWs was worse than what the Germans did. This part of history used to scare me.
Being an empath and medium, feeling, hearing, sometimes experiencing on some level what the dead have gone through, I did not want to do in-depth study or read about those horrors for many years. I thought reading about it would bring up too much and scare me to the point I'd stop researching.
However, things shifted the more I healed layers of myself and past lives and learned how to protect myself from absorbing everything I heard, read, saw, or experienced. Lately, several things have shown up, including new clients, who are pushing me more into this area, including my AVG Flying Tiger Robert Brouk. That's a whole other story of what he has presented me this week.
A lot of stars aligned and I finally cracked open a book about Japanese POWs. On one hand, this is helpful for the client work I currently have. On the other hand, there are a lot of themes tangled up in the Pacific Theater of War that no one is talking about. Things we MUST talk about because the trauma and experiences trickled down through the generations in our DNA. It is time to stop being silent about all of this.
I would like to clarify that there is a misconception that everyone participated in the Bataan Death March. They did not. We are however taught about that one event in our history classes and what circles the internet. We are most familiar with this POW experience. Therefore, we tend to associate any POW story with that one experience. There were so many others that occurred. Keep in mind that while your family member may have relayed pieces of that story, it is possible it was never part of his actual experience. There was so much time to share stories as men were moved from place to place that this, combined with disease, malnutrition, physical, mental, spiritual, and emotional issues that memories often were mixed together. Regardless of what your family's story is, or perhaps multiple stories, write them all down. Check the military records and histories. See where you end up. Never assume what you have heard is full truth. It rarely is.
I read Belly of the Beast by Judith L. Pearson this week. The book was not so traumatic that my soul wanted to flee my body. I had very few physical reactions to things I read. This surprised me. The author wrote Estel Myers' story in a way that it was tolerable to read, while interspersing the horror in small doses. She takes his story from early life through his choice to join the Navy (there are important themes here I will discuss further later), through his experience in the Philippines both as a free man and POW, to his release and a little about his late life. Judith keeps her notes at the end of the book so the story flows rather than being interrupted by footnotes. I appreciated this for two reasons. One, I like to know where someone obtained the information they wrote about so footnotes or endnotes are one of my favorite things. Two, having the notes at the end allowed me to focus on the storyline rather than being interrupted.
What was interesting and happens a lot for me, is people, documents, books, experiences, etc., show up when I need them. It just happened that I'm working with a client who has a family member who was a Japanese POW. This man was on the same ship at the same time as Estel. Did they know each other? Not likely because they were in different Naval units, but you never know. Perhaps they crossed paths at one point. Estel did also work as a Corpsman in a hospital in which the client's POW spent some time prior to being captured. Would they have met there? Perhaps.
While the client's POW was not on the hell ship as Myers, the experiences Myers had were in some way, similar to those had by other POWs on other hell ships leaving the Philippines going to Japan. When we read books like this, they can open up new questions for our research, our families, and how the world was and is today. We gain historical context of what an experience was like for one man, though this book covers that of all the others who were on the ships with Myers. That historical context can bleed into our own family member's experience and give us more of a picture of what their service, captivity, and release was like.
Questions for you
1. What books have you read for your research that present other themes that fit into other areas of your family and military history?
2. What books or areas of family history have you avoided and why?
3. What would change for your family, the past, present, and future, and the world if you could peel back on layer of something that frightened you so that some type of healing could come through?
Disclaimer: The book link is an affiliate link and I make a small royalty off your purchase. This does not affect your purchase price.
© 2018 World War II Research and Writing Center