I don't know about some of you, but for the last three years in particular, I've witnessed and experienced the upheaval in the collective, governments, countries, systems, and within myself. Humanity has been going through a massive transformation whether people realize it or not. Many of you who follow me know exactly what I am talking about.
In recent months this transformation and upgrade has intensified and sped up. This has left many of us feeling off balance, over emotional, uncertain, and upside down. For me the last three years, it's been a massive untangling of everything that doesn't serve me. I've had to face some hard truths about myself, people I love, work I do, how I live, and every area of my life and all relationships has been touched and demolished so it can be rebuilt. Are you also experiencing this?
One thing that has consistently helped me move through this transformative time is calling on my ancestors, particularly my military ancestors for help, love, and guidance.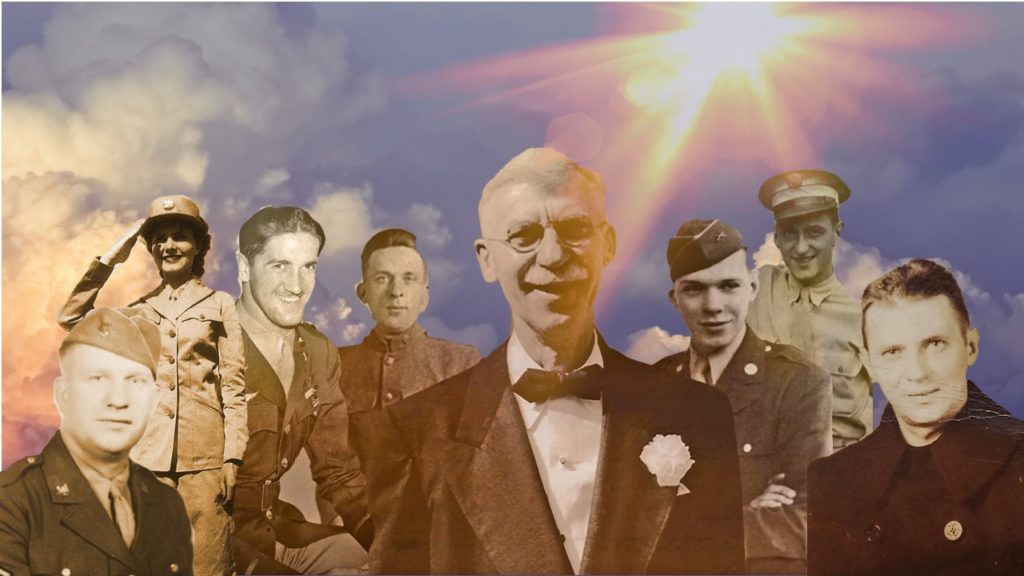 It's been said that every 10 years we go through a massive life change. Have you noticed this? I've been thinking about this recently and 10 years ago from the period June 2012-June 2013, everything changed for me. My ancestors had already been communicating with me and supporting me but their investment in my life increased at that time. My military ancestors in particular began showing up in various ways to push me forward with the new life I was creating and the work I was moving into.
The ancestors who provided the most love and support then were Joseph Kokoska, James Privoznik and to some degree Robert & Ginny Brouk, and Michael Kokoska. Joseph Kokoska served as the primary ancestral guide in that he was kind of the leader which allowed everyone else to show up. That may sound strange and not the way you have experienced ancestral connection but that's how it showed up for me. Joseph helped me feel and experience what unconditional love felt like. He also gave me some hard truths and options to look at as I started that new life.
James Privoznik helped me in two main ways……transforming my genealogy business into a military research business and helped me meet a man I would later marry to help me transform and heal so much for myself, my ancestors, and the collective.
My grandpa Joseph Holik also showed up but his story was too painful for me to fully look at all at once. Do you have ancestors with painful lives that you slowly move through? There is no right or wrong way to research or get to know our ancestors. Sometimes it's like healing and peeling an onion. We have to take one layer at a time.
I tip toed through Joseph's military records, life story, our family story, and patterns for at least 10 years as I slowly made peace with things. People think we can't unconsciously live our ancestors lives but I'm living proof we can. I did this with my former husband on so many levels.
How did I get to know my military ancestors on a deeper level? I have a gift of seeing beyond the veil and through layers of stories and genealogy and military records others do not. Joseph Kokoska also made sure I did the emotional and often difficult military work for my ancestors and clients so I could process decades of stored emotions and hidden stories of my ancestors.
I also used tools like timelines and genograms to identify hidden family patterns. I used guided or channeled writing or meditation to speak with them. I watched for signs from them and validation of questions I asked. Sometimes this showed up through a spirit animal, a coin, a color, my grandma's face powder (letting me know she was nearby), feathers, or other things.
As I sit here 17 March 2023, my military ancestors are getting loud again. They are reminding me to get loud, play larger, be more visible, and be of greater service to humanity. I'm also hearing it is time to put on my armor and be the light warrior I came here to be in a bigger way. The world is shifting and those of us who came here to be on the ground crew to help humanity, work with our ancestors to heal the past, and create this New Earth are being called into greater service.
There is no fear to be had when we call upon the support of our ancestors. They patiently await our call and are ready to help us create this new world. So today I invite you to sit quietly and call upon your ancestors through guided writing, meditation, genealogy or military research, writing, or any other way you sit with your ancestors.
Would you like support?
Would you like support in exploring your family history and connecting more deeply to your ancestors? Explore the private sessions I offer at the Ancestral Souls Wisdom School.
Are you seeking more of an educational type of experience? If so, you are invited to learn more about and register for my upcoming Patterns Study Group. This 5-week study group will help you identify through genealogical and military records, family beliefs, behaviors, patterns, and traumas that exist and help you think about ways you are living these energies. Current sessions begin 27 March 2023 and 22 April 2023. Summer sessions will be added soon.
---
Explore your family's WWI or WWII history
Are you ready to explore your family's WWI or WWII history? Book a free phone consult today or email me at info@wwiirwc.com.
© 2023 WWII Research & Writing Center