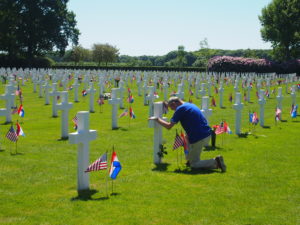 I recently received several new Individual Deceased Personnel Files (IDPFs) for those buried in or on the Wall of the Missing at North Africa. In addition to this, I received some very interesting client files that contained partially burned Official Military Personnel Files (OMPFs). Reviewing these files for two days straight led to so many questions about family, war, research, the stories we hear and tell, and the pain passed down through the generations. It also brought up questions not only about family members, but those who adopt graves in the ABMC cemeteries.
Did you know a lot more can be learned from military records beyond the soldier's: name, service number, unit, and enlistment and discharge/death data? Did you know many of these records contain handwritten letters from family, primarily when their soldier was Killed In Action or listed as Missing In Action?
Have you ever looked beyond your soldier in these files and questioned what life was like for those they left behind? Are you wondering what I mean when I ask that question?
What are the family dynamics you discovered in the files? Were the soldier's parents married or divorced? Had one died? Was he or she married?
How did the parents feel about their son or daughter's death in the war?
What grief was passed through the letters inquiring about their soldier's death, burial location, and seeking information on personal effects?
Were any family members put into a mental hospital or sanatorium after they learned of the death or Missing In Action status?
What stories were you told about your family member's service? How did that line up with the information you discovered in the records?
What stories do YOU tell about this soldier, his/her experiences, and lessons learned?
How much grief do you carry from someone you may have never met?
If you adopted a grave, have you met the soldier's family? Were you able to provide information that helped ease the pain they carried about their family member? Were you able to answer questions they held onto for years?
Grave adopters view files in a different way. Often to find a photograph, learn basic details of their soldier, and connect with a living family member. There are many other lessons and higher level details about the war in these files (I'm saving that topic for another article coming soon!). As you take a deeper look, what will you discover?
In my experience at the ABMC cemeteries and reading all the files I have the last five years, the soldiers have a story they would like told by the living. They too are seeking answers and peace. Many wish to be released once the living know what they are here to pass onto us. However you personally connect with these soldiers, are you hearing them?
I have a lot more to say and many more questions on this topic. You can watch a video I created to just get some of my thoughts out for you to think about.
What have you learned about your family and its history and trauma from military records?
As a grave adopter, what did you learn about your soldier and what were you able to convey to the family to help bring closure to their questions?
© 2017 World War II Research and Writing Center