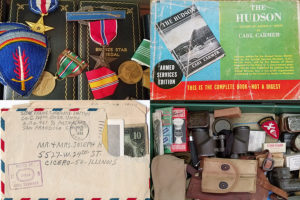 I recently posted on Facebook about a 101st Airborne paratrooper's letters I was reading and writing about. I commented that people should save their letters and envelopes that go with each letter as they contain valuable information about not only the service history of a soldier, but his family and life. I went on to say that should a family not want their soldier's military papers and artifacts any long to please not throw it away. There are many individuals, archives, museums, and other repositories that would be happy to take the original materials. Them someone asked for a list of those repositories. While I do not have a list of every possible place in America to donate materials, I can give you some things to consider before you donate. Many places will be happy to accept your
original
materials (not photo copies) but it is important to ensure the materials will be properly processed, stored, and
made available to the public for research
. A couple of years ago a friend and I were attending the 104th Infantry Division WWII reunion in New Orleans. We spoke to an archivist at the National WWII Museum about a collection my friend was considering donating somewhere. At that time (
and I have no idea what the current policy is
,) the museum did not open their archives to the public for public access. This means the public could not go in and touch and use the materials. They could submit a request and maybe an answer would be sent. This is not personally where I would donate materials. My preference is for them to go to a repository where people can actually
use
the materials. In some cases, smaller museums, libraries, and archives, with limited staff and funding, will take your materials and leave them in boxes in a closet or storage area to rot. Once the materials enter, they never again see the light of day. Think of all the materials that could be available but are not. Perhaps that one piece of information you need is hidden away in a dusty old archive. I volunteered in a place like this a few years ago. A tiny military museum that had no traffic and boxes of records in a closet that no one ever saw or used. Is that
really
where you want your materials to end up? Many people have commented that VFW and American Legion lodges (and similar lodges) are places people often donate materials and usually they end up in a closet. Remember that just because an organization supports our military, veterans, and preserves memories, does not necessarily mean they are the best option to house research materials and artifacts.
Consider Where to Donate
This list is not an end all be all list of suggested places to donate.
An archive, museum, library, or other in the town, county, or state where your soldier lived.
The special collections (archives) department of the university where your soldier was educated or worked.
Military Museums.
WWII Training Camps which house museums like Camp Toccoa (airborne).
Before Donating to Individuals or Overseas Museums
When considering individuals to which you can leave items, there are a few things to consider.
What will happen to the donation?
Will it be sold off in its entirety or in pieces?
Will the new owner of the material preserve it and honor the soldier's memory?
Will the museum only have it on display?
My Dutch husband Johan lives in the Netherlands. He adopted the grave of WWII paratrooper, Bernie Tom at Margraten (Netherlands American Cemetery.) After connecting with and meeting Johan in person, Bernie's family, who have no children to pass materials to, gave Johan all of Bernie's letters, some photographs, and his Purple Heart. Johan promised to take good care of these items. He also has plan of where these materials will go after his death. There are many grave adopters, historians, and museums in Europe who seek these materials. Do your due diligence and meet these individuals in person. Visit the museum you are considering donating to before you let the materials leave your hands. While many people are honest and will treasure the materials, there are some who will break up the collection to sell it on E-Bay or other sites. I have also seen many Americans selling broken military collections online. Doing this takes the information and photographs out of historical context. It also scatters the information to places in which it may never be found again. Many of the military museums in Europe are also very small and may display your materials, but not provide research access to them. This is because most smaller museums have no archive or library. Only displays.
Before donating materials, consider the following.
Does the facility have paid staff and an archivist or someone specially trained to process and protect materials?
Where are the materials stored?
Will the materials be digitized?
What is the policy for preparing new materials for public use?
Does the facility provide you with a photocopy of the materials you donated?
What happens to the materials should the facility close or no longer choose to use them? Are you able to get them back?
How is the public able to access the materials?
Before donating can you specify that certain items must go on display and not just stuck in a box?
Is it possible some of your material should go to one location and artifacts to another?
Asking these questions will help ensure your materials are stored in the best place possible. Finally, if you are not donating while you are alive, prepare your estate materials to document how you would like these materials handled after your death.
Do you have any other tips based on your experience in donating materials? We'd love to hear from you.
Can I help you with your research?
Are you ready to learn the bigger picture of your family member's military service? Email us at
info@wwiirwc.com
to set up your free phone consultation today to discuss project options, fees, and time. You can also
sign-up for our free newsletter
and receive the
Start Writing Your Military Story Today
free!
Are you following Jennifer
and all her work on all her social media sites? Click the link to learn more and find different content.
© 2017 World War II Research and Writing Center