This year I spent Memorial Day weekend in Europe, specifically in Margraten in the Netherlands. The primary reason I was in Margraten was because my Dutch fiancé has a foundation, the U.S. Paratrooper Society, which lays a wreath at Margraten during the Memorial Day service. He asked me to be his wreath layer this year. Since we were going to Margraten and I was planning to release new World War II research books, it was also a good time to arrange a book signing. The book signing was one of two events that weekend where I promoted my new book, Faces of War: Researching Your Adopted Soldier.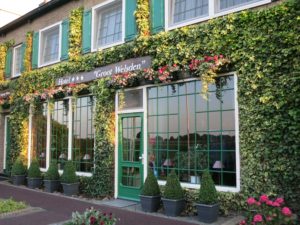 Our weekend began at the Hotel Groot Welsden on Friday 27 May. I had previously arranged with the hotel to have a book signing on Sunday morning, 29 May, before we went to the cemetery. The entire staff at the hotel is fabulous. We couldn't have asked for a better stay. There is a beautiful, calming garden behind the hotel, where we had a welcome drink and were able to relax….until the storms hit! Then we moved inside to the sitting area.
On Saturday 28 May, we visited Henri-Chapelle Cemetery in Belgium. I dropped off books for the Remember Museum. They have several of my research books for sale. Proceeds benefit the museum projects. While at the cemetery I had the pleasure of speaking with the Superintendent Bobby Bell about the goings-on there and donated a copy of my newest book on writing the stories of war.
Afterward, we had a bit of lunch in Gulpen and picked up flowers to take to Margraten, the Netherlands American Cemetery. My fiancé adopted two graves there.  Charles D. Horn and Bernard Tom. I had not met Charles or Bernie on my previous trips to Margraten and it was nice to stop at their graves, lay flowers, and talk to them. Bernie has been around here, helping with research or writing from time to time. The weather was perfect and quite warm that day so after we finished visiting the graves, we returned to the hotel for a drink in the garden. It was a perfect day.
That evening we attended an event held by the Foundation for Adopting Graves American Cemetery Margraten, where I was going to give a short book presentation on Faces of War. The event was for grave adopters and families of American soldiers buried at Margraten. The evening consisted of a new documentary about the cemetery, folk music, some certificates being handed to families, and my book presentation.
The foundation asked for 10 books to sell that evening, which I provided.  All 10 books were sold before the program ever began! People are very interested in the Netherlands to learn about the life of their adopted soldier. They are also interested in connecting with family members in the U.S.
After the presentation we returned to the hotel about 10:30 p.m. No one was in the bar or sitting area except the staff. The kitchen was closed but I asked if they had any dessert left because I was hungry. We had eaten dinner early to be able to attend the event. Luckily, there was still some pie left! Pie and coffee were a great way to end a successful book presentation and fantastic day.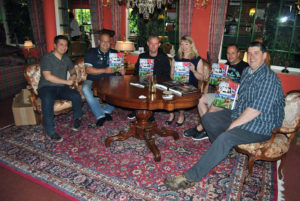 On Sunday 29 May, I had my book signing at the hotel. Several members of the Foundation United Adopters American War Graves (Stichting Verenigde Adoptanten Amerikaanse Oorlogsgraven), who were selling my book Faces of War, attended the event with the books the were selling. I signed 30 copies of books and met several new people. If you purchase a book through the Foundation, it supports their Faces of Margraten Project and Fields of Honor Database project. 
After the book signing, my fiancé and I went to a cafe in Margraten to meet his Band of Brothers re-enactment group for lunch before going to the cemetery. After lunch we went to the cemetery where it was lightly raining on and off. Thankfully the weather was not so terrible to cancel the service or make the attendees miserable.
The Memorial Day service consisted of several speeches, an all-male choir singing, and the laying of many wreaths in honor of our war dead. Each of the wreath layers was escorted to the area designated for the wreaths by current U.S. military personnel. Military personnel placed the wreath with our help on the stand. A few moments of silence were allowed before we were escorted back to our seats.
I have been doing World War II research, primarily focused on those who died during the war, for several years. It is one thing to do research and be distanced from those who died, and another to be where they sleep. When I am near them, many more speak.
This day made my fourth visit to Margraten. Every visit has been special and left different impressions on me. If you read any of my Traveling in Their Footsteps articles from my trip to Europe last fall, you know I often hear the soldiers speak. When they speak, I listen.
After laying the wreath and returning to my seat, the soldiers began speaking. This trip to Europe in May and June 2016, was not what I originally planned. A lot of things changed in my personal and professional life between the time I scheduled my flight and the time I arrived. Just when I thought my life was going in one direction, everything shifted. Sitting there listening to the soldiers, I heard that my life was going to change dramatically. There is a lot for me to do for World War II education, research, and writing.  And nothing was going to be what I thought it would.
It appears I am now off on a grand new adventure! Stay tuned to find out what happens.
© 2016 Jennifer Holik