FutureLearn has so many interesting classes and yesterday I wrote about World War I: A History in 100 Stories. Today I started another course that runs only two weeks, WWI Heroism: Through Art and Film.
In a module about exploring World War I Art, there are several resource links provided so students can look at various artwork created during and after the war. One link is directed to the British Library and an article called, Why Paint War? British and Belgian Artists in World War I.
As I looked at this article and the other suggested articles along the right side of the page, I found another one called The Silence After The War, by Julian Walker, which talks about why men and women did not talk about the war after their return. This silence accompanied men home from not only World War I but also World War II, Korea, Vietnam, and even more current wars today.
Near the end of this article on silence, there was this paragraph:
"Typical of those who 'did not speak about the war' were lapses into silence, the 'thousand-yard stare', or 'a vacant look', all of them characterised by absence of communication. This absence is seen also in the way the major war memorials communicated the experience of the war: the empty tomb of the Cenotaph, the absent name of the Unknown Warrior, the open space at the centre of the major architectural memorials in France and Belgium, at Vimy, Thiepval and the Menin Gate; and most of all in the annual two minutes' silence on Armistice Day. The 'empty space in the centre' became the defining motif of memorialising the war."
Having been to these three places mentioned, Vimy, Thiepval, and Menin Gate, I had not stopped to consider the space of silence within each of the memorials. The photos in this article are mine from my trip there last year.
Do you agree with the article about these spaces in memorials? Have you seen others that allow for silence? Please share your thoughts in the comments.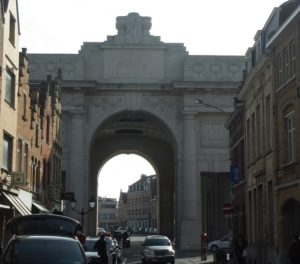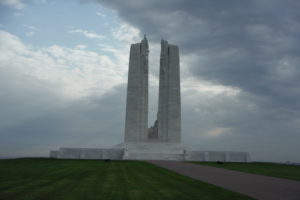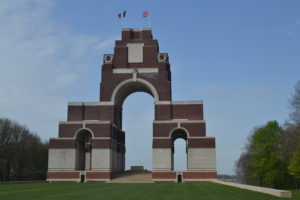 © 2016 Jennifer Holik