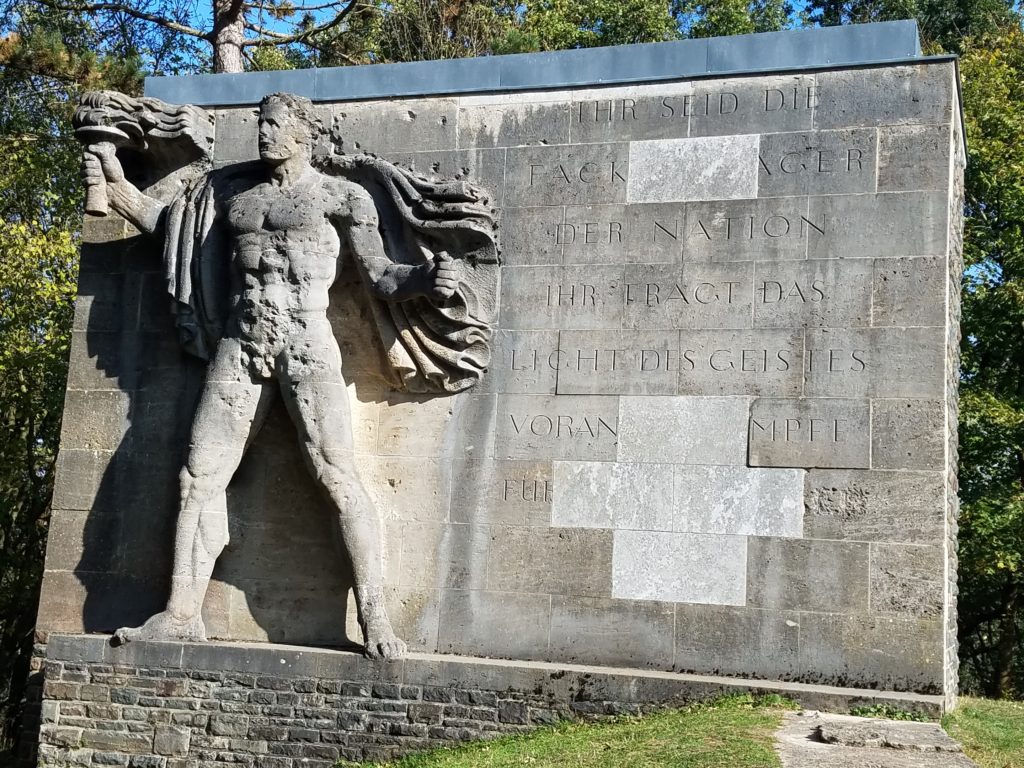 Last weekend Johan and I traveled to the Dutch/German border near Aachen and spent a few days exploring WWII history and contemplating family history. I did a lot of writing on this trip. Musings. Questions. Concerns. Joyful things. All of this was captured in my journal.
One thing that keeps showing up the longer I am in Europe on this trip is that history keeps repeating itself. We are not doing enough to stop this.
In September while at the unveiling of a new WWII memorial in the Netherlands, during a speech someone said something to the effect that the Dutch have lived in relative peace for almost 75 years. The current young generations have no idea what it is like to live in fear or hunger. They in many ways take their freedom for granted as if this is how it has always been and this is how it will always be.
Wrong attitude.
The Dutch seem to be the only European country (that I have witnessed) consistently educating their youth on the history and events of WWII. I can say that having kids in American schools, they are not being educated on any of this beyond 5 minutes here or there. My boys know about our family's history and sacrifices because I take time to explain it. They know how things work in other countries because I explain it. Knowing American schools are not educating about the past in a way that we can stop the division, anger, hate, and war in the present or cause our kids to QUESTION everything, stirs a lot of emotion in me. Rather than question, students are being taught to follow the crowd like sheep and buy into everything the media, government, school, church, etc. tells them is "truth".
In the Netherlands, the school children participate in commemorations and other events so the history is alive. In other countries in Europe it seems to be covered up, changed, ignored, slid under the carpet.
Case in point, we watched a National Geographic investigative program on Mussolini the other night after we visited the Nazi Training Facility at Vogelsang in the German Eifel. I have not studied Italian history beyond early family history for a client so was unaware that Mussolini was in power so long in the 1930s and Hitler modeled himself after Mussolini. Then the historians in the program made an important point – when rulers are losing power or the country is going to hell, they create a DISTRACTION. That distraction is war.
Mussolini took his country into war with Ethiopia and won yet lost. WWII began and eventually Italy, who originally sided with Hitler, lost that connection and became an Allie. From the program and what I've heard, Italy does not educate their youth the way the Dutch do. There is a rise in Fascism today because people want a new Mussolini. They seem to have no concept of what happened in the past to bring him to power, the destruction he caused, and his downfall and the state of Italy afterward.
Thinking about all we have seen in the last two months in Europe, the programs I have watched, the places we visited, the history I read, the clients I have been working with, I did a lot of writing on this topic before we visited Margraten, the Netherlands American Cemetery for WWII. In this sacred place I wandered the graves, visited some specific soldiers, was snagged to stop and talk to others, and contemplated all of this. Having family members who fought, were changed, or died, in WWI and WWII, I do not understand why we keep forgetting the past. Why we continue to carry the sins of the fathers around like they are ours. Why we are so afraid to bring our family darkness to the light and explore it. Forgive it. Release it. Find closure.
Some of my thoughts are contained in this video. Some invitations and questions for YOU are also here. Have you taken the time to consider these things? What roles have your family members played in the past – whether WWII, WWI, or even before that, to continue looping history? Do you think it is time to let these things go and stop carrying them in our families?
Additional reading: for background on this trip and where some of my questions came from, you are invited to read the other articles I wrote where I touch on these topics.
Are you ready to explore your family's history or military history? Explore our services and educational materials to learn more.
© 2018 World War II Research & Writing Center