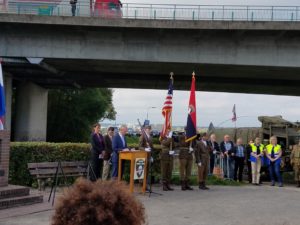 Last week I attended the Airborne Commemoration in Heteren, Netherlands. This was the second year I attended this commemoration. Heteren is near the area where the Airborne fought on the dikes after Operation Market Garden, in the area they call the "Island." Many soldiers, including Bernard Tom, who I wrote about last week, fought and died on the dikes near Randwijk just up the road.
A few re-enactment groups attend the commemoration and act as Honor Guard, bringing in the colors and being present to witness the remembrance. My husband's group, Band of Brothers in Belgium and the Netherlands provided the colors again this year. The re-enactors often arrive in their WWII vehicles and always dressed in period uniform.
One thing I appreciate about every commemoration I've attended here, is the fact that children are a part of each one. Students in school in the Netherlands are taught about WWII and the effects it had on the Netherlands. They learn about the sacrifice of our American soldiers and all Allied soldiers, and what that means for their freedom.
School children prepare short stories or poems, which are read during the commemoration. They also bring flowers and drawings to leave by the memorial. Wreaths and bouquets of flowers are brought forward by the children for individuals or groups who sponsor the flowers. They are laid on wreath holders or the monument itself.
The Last Post is played by bugler as the flag is lowered slightly by the honor guard. Then the Dutch and American National Anthems are played as the flags are raised on the flag pole – Dutch, Airborne, and American. Even though the entire ceremony is in Dutch, and I only pick up a few words here and there, it is a moving ceremony. Several soldiers were named from those who died on the dikes, including Bernie Tom.
Just before the end of the ceremony, doves are released, which is always a beautiful sight. A sign of peace and love and hope for the future. What would that be like? Peace……
Read last year's article, Honoring Service – Engaging Children in WWII Research.
© 2017 World War II Research and Writing Center