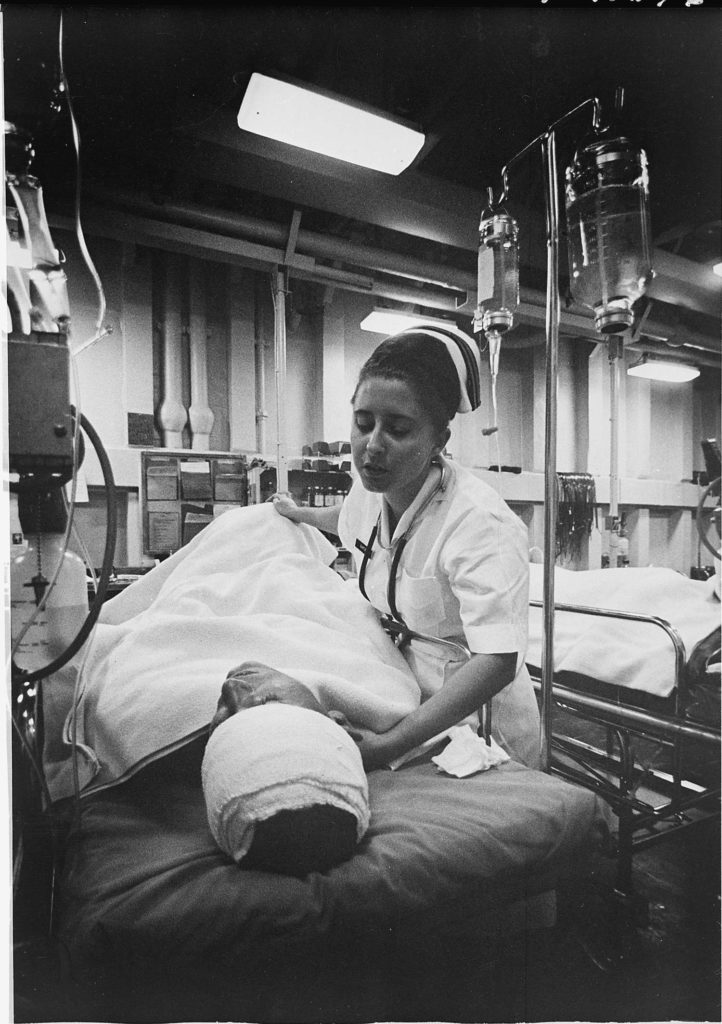 Are you curious about our female Vietnam veterans? I am. I recently finished reading a book, Nurses in Vietnam. The Forgotten Veterans. Edited by Dan Freedman. Associate Editor Jacqueline Rhoads.
This book tells the stories of nine Vietnam Army nurses. It becomes clear after two or three stories that the editors must have had a specific list of questions they ask each veteran as she tells her story. For me, the most impactful questions related to how they felt about the war, should they have been over there, what was the point of it all, and would they do it again?
Now, most everyone knows about the history of Vietnam, at least in a general sense, along with the American home front feeling of the veterans that served there, which was not good. There were no welcome home parties or parades. Veterans were often abused or ignored if it was discovered they were returning home from Vietnam or had served. Much of this was due to American propaganda to sway the people one way or another. It wasn't until decades later that Vietnam veterans were finally being recognized and honored.
If you have done World War I or World War II research, you may have read about nurses in those wars. Women who signed up to help but were not likely a career service woman. This was different for many nurses who served in Vietnam. Most of the women in this book went on to continue service for many years, or even retired from the military after a long career. Times had changed.
The stories also spoke a lot about the differences between civilian nursing in the 1960s and 1970s versus military nursing and more specifically, what was allowed in Vietnam. Now, most of us understand there are levels to nursing degrees. Those levels also existed in those decades. What I didn't understand is for civilian nurses, many of the things that could be done in Vietnam, were not allowed in civilian settings. Drawing blood, giving an aspirin, setting up an IV, for example. These are things Vietnam nurses learned but could not practice stateside. Each story discusses the frustration of being able to learn so many new skills and take charge while in Vietnam, only to come home to male doctors telling them what to do, even if the doctors had zero experience, or not being able to use their extensive skills.
Another thing I really appreciated in this book, were the stories of survival, shutting down emotions, drinking too much, avoiding what was uncomfortable, and dealing with constant exhaustion, stress, and fear. Each of these women explained how they handled the stress and long hours in Vietnam then how it affected them when they came home. Never before in World War I or World War II books, did I read such honest experiences. Almost all the women in this book also suffered from what would be later diagnosed as PTSD. Each had their own way to move through this on the home front.
I really got a different perspective of women in war and how women were treated on the home front through this book. The stories also gave me a completely different look at how the stress was handled, or not, during service and after. And perhaps the biggest honest passage in each story……how they each felt about the war and how they were taught never to say anything against it while in service in Vietnam. It is a good example of propaganda and programming of society, both at home and in Vietnam, and how we still carry those programs of secrecy today.
Isn't it time we stop keeping secrets and share how we feel, how we felt about experiences, and heal?
Are You Ready to Start Writing and Researching?
If you are ready to start a research or writing project, email me at info@wwiirwc.com and let's set up a free phone consultation. I'm excited to help you bring your family's military history to life and preserve it for generations.
If you want even more military and ancestral healing content, follow me on TikTok. I share a lot of additional tips there.
© 2022 WWII Research & Writing Center